I made another 2 NFL (American football team) pennants tonight. And, I decided to string them up on a laundry line so I can adjust them every year as I add more. Actually, I'll probably need two strings because I have 5 more pennants not pictured here (maybe AFC and NFC?).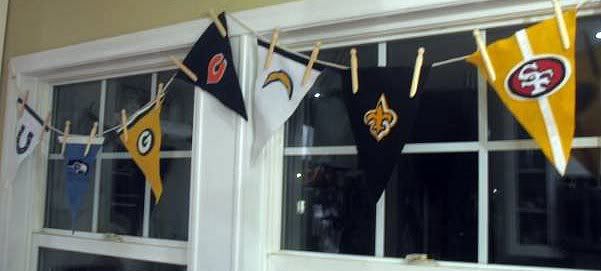 The big game is this Sunday. Our menu:
Antipasti platter featuring olives, pickles, roasted peppers, mushrooms and baby mozzerella balls
Cheese fondue with bread cubes, green apples, carrots and broccolli
Chili (turkey and veggie versions)
Jell-O helmets in blue and black (orange+grape=black)
and for dessert we are tentatively planning on chocolate fondue
We'll probably do some chips and guacamole and some chex mix too. I'll post pictures.
Thanks for stopping by my blog today. I'd love to hear your Super Bowl traditions. And, if you are from outside the USA, I'd love to hear about your sports traditions.