IThis is a super fun 3d tree. This is an origami Christmas card that would be a fun project for kids to make. I got the idea from an old issue of Pack-O-Fun Magazine.
To make the tree, you will need:
1 piece of 6" patterned paper.
Instructions:
Step 1:
Cut out a 6 inch circle of patterned paper.
Step 2:
Fold the circle in half and then in half again.
Step 3:
Fold the quarter circle into thirds, radiating from the point.
Step 4:
Open up paper so it is a half circle again. Now, fan-fold along previously folded lines.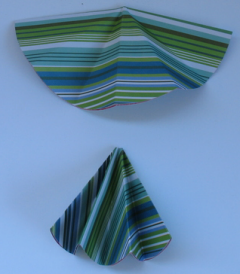 Step 5:
The top picture shows the fold that you do
NOT
cut on. Flip it upside down. You want the 2 folds and 2 ends side. Using sharp scissors, cut 3 v's like the bottom picture.
Step 6:
Here's a picture of the back. Place some adhesive in the folds.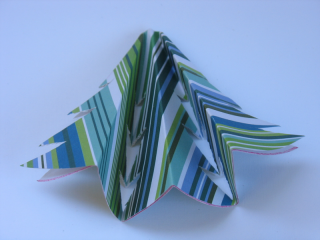 Step 7:
Flip your tree over and adhere it to card front.
Optional idea:
Make 2 trees and adhere together. Thread string through the top and use as an ornament or on top of a gift.
Thank you for visiting We Grow By Our Dreams today. I have lots more projects and tutorials on this and on my other blog,
The Vintage Sheet Blog.