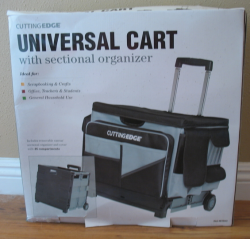 I just thought you might enjoy a look at my newest attempt to get organized. First, I found this awesome cart at Costco a few weeks ago for $29.99. In the inside, I store upright a couple of the 12 x 12 paper cases that I bought at Michaels. Then, I fill the rest of the space on the inside and all the gazillions of pockets on the outside with tools, embellishments and all kinds of other stuff like ink pads.
Secondly, I was really getting sick of searching through shoeboxes for my mounted stamps. I purchased these 8 1/2 x 11 clear containers from
Shabby Cat Creations Ebay store
. I bought six but I can tell I'm going to need more very soon. I organized them by theme. I love them because I can see all my stamps and they stack and take up next to no room.