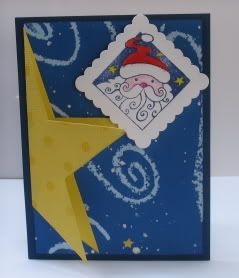 I wanted to do something different than the usual fold on this one. So, it is like a postcard with the star unfolding to leave room for a sentiment or personal note. The Santa stamp is from Hero Arts ClearDesigns. The yellow polka dot and the blue swirly paper are from Creative Imaginations. The navy cardstock is Prism. I'm also not a big Santa fan but I thought this stamp really worked with the star theme. There's lots of sparkle in real life.
Julie informed me that today is Blog Action Day. It's a day for bloggers to do something for the environment. So, I compiled a list for you of some things about me that are enviornmentally friendly.
Top 5 things that I do for the environment:
1. I use a laundry line. Seriously, I think I'm the only person in OC that hangs my clothes to dry, but it totally makes since here since it's usually sunny.
2.
I am a garage sale shopper. I bought the chandelier on the left at a garage sale for a dollar. It was super ugly. So, I took it home, spray painted it with wrought iron paint, added bulbs and voila.
3. I don't eat mammals. I guess the other word for it would be octolactofishotarian. I don't know. We grew up not eating red meat in my family. When I was 18 I dropped the birds from my diet too. So, I'm left with fish, eggs and milk products.
4. I recycle. Our city just started a program where we have different containers for trash, green waste and recyclables. Since I'm in charge of taking out the trash in my family, I've become keenly aware of where we can improve.
5. I don't drink coffee. When I lived in Hawaii , I saw first-hand the deforestation of the island in order to satiate the growing coffee market. Although coffee can be grown within forests with little impact to the forest habitat, far too often the forests are destroyed to make room for coffee fields. This is happening world-wide.
Okay, that's my top 5. Do you do anything special for the environment. I'd love to know. Please leave me a comment.